Công tắc – Ổ cắm
Công tắc – Ổ cắm Busch Jaeger
Ekienx FF series
Busch-dynasty®
Your own living space deserves the best. Busch-dynasty® offers exactly that. Handcrafted and developed together with international design experts, the switch offers an almost lavishly luxurious aesthetic.
Quality at the highest level.
Busch-dynasty® is characterized by its very special quality. Starting with the exclusive design, through the selected materials, to the perfect workmanship. Each individual switch is unique thanks to manual work.
Stylish down to the last detail.
A magnificent masterpiece. A finely drawn ornament on delicate anthracite is framed in a polished brass frame. In this way, every room becomes a gallery of fine arts. The color and feel enhances any living space and emphasizes the luxurious ambience and taste of the owner.
The good design of each product is the guarantee of our success. In doing so, we focus on the needs, habits and preferences of the users. Get to know the building blocks of our design philosophy.
We shape quality of life, not just products
Design is not a matter of taste. Design is the basis for offering exactly what people need and like to use. Busch-Jaeger thinks through all the details from the first drawing to the final touch, from the smallest contact to the functional surface. In the end, to enable what inspires, right from the first touch.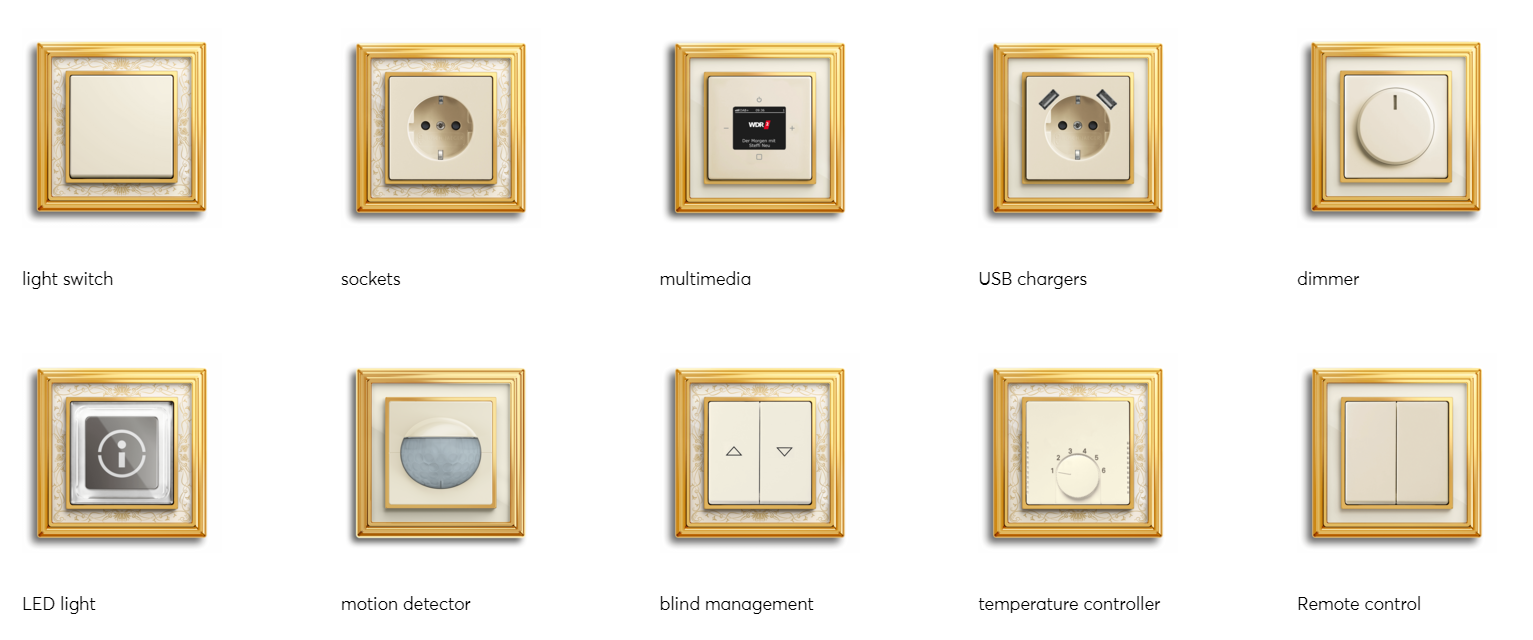 Thông số kỹ thuật
Diverse application possibilities.
This switch series is available in 1-gang to 5-gang frames. They can be mounted vertically or horizontally.
Trọng lượng (kg): 1,1
Chiều rộng (mm): 100
Chiều cao (mm): 222
Tiefe: 100
Lithium-ion battery
Min. 8 hours mono, 5 hours stereo
Chiều cao (mm): 222
Trọng lượng (kg): 1,1
Chiều rộng (mm): 100
Chiều cao (mm): 222
Tiefe: 100
Lithium-ion battery
Min. 8 hours mono, 5 hours stereo
Chiều cao (mm): 222